"Great to put time aside and learn and think about my well-being with Tanya's help."
– Workshop Participant
DEMYSTIFYING PSYCHOLOGICAL HEALTH & SAFETY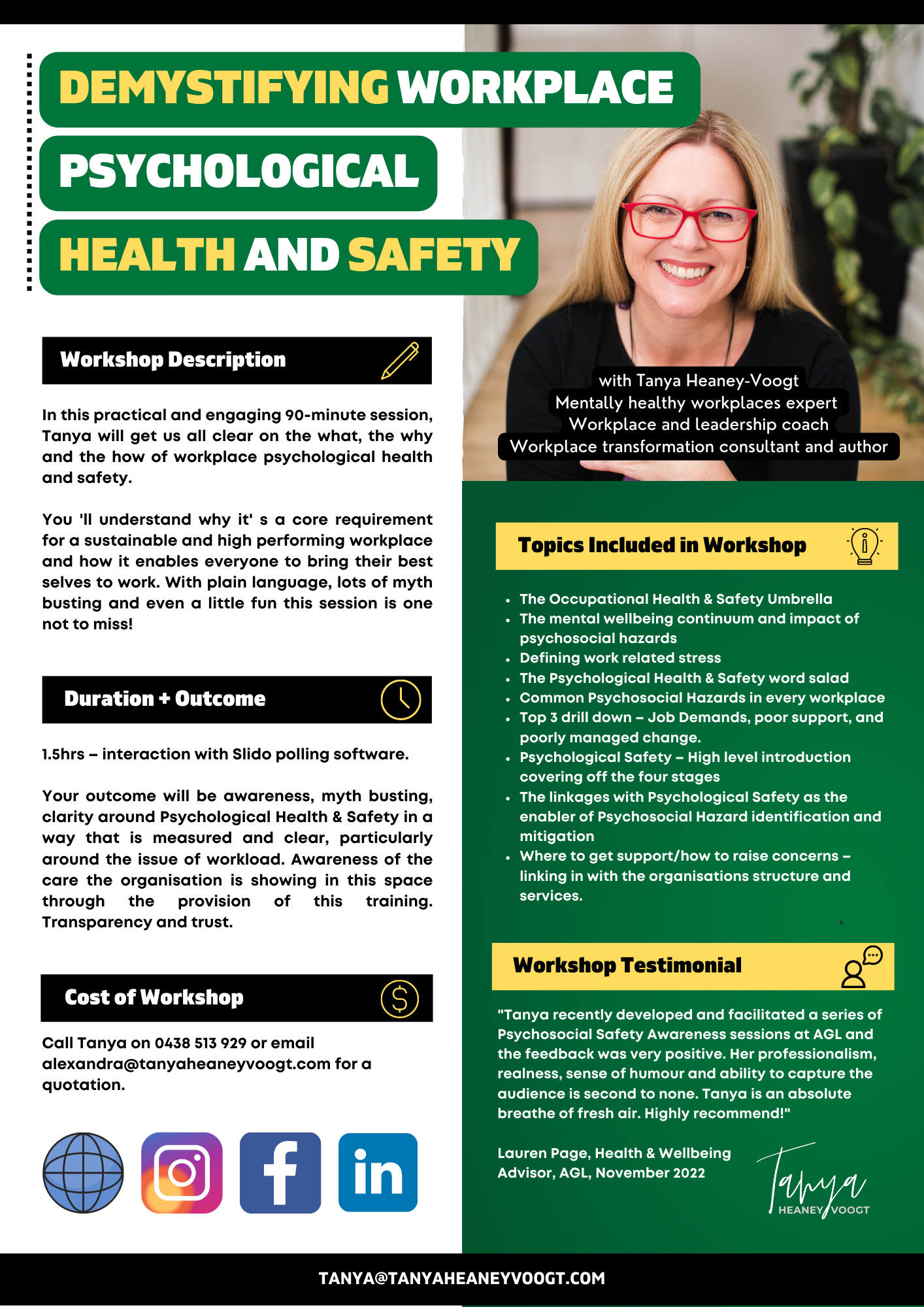 In this practical and engaging 90-minute session, Tanya will get us all clear on the what, the why and the how of workplace psychological health and safety.
You 'll understand why it' s a core requirement for a sustainable and high performing workplace and how it enables everyone to bring their best selves to work. With plain language, lots of myth busting and even a little fun this session is one not to miss!
Your outcome will be awareness, myth busting, clarity around Psychological Health & Safety in a way that is measured and clear, particularly around the issue of workload. Awareness of the care the organisation is showing in this space through the provision of this training. Transparency and trust.
The Occupational Health & Safety Umbrella

The mental wellbeing continuum and impact of psychosocial hazards

Defining work related stress

The Psychological Health & Safety word salad

Common Psychosocial Hazards in every workplace
Top 3 drill down – Job Demands, poor support, and poorly managed change.

Psychological Safety – High level introduction covering off the four stages

The linkages with Psychological Safety as the enabler of Psychosocial Hazard identification and mitigation

Where to get support/how to raise concerns – linking in with the organisations structure and services.
Duration
1.5hrs virtual or face to face – interaction with Slido polling software.
Pricing
Call Tanya on 0438 513 929 or email alexandra@tanyaheaneyvoogt.com for a quotation.
"Tanya recently developed and facilitated a series of Psychosocial Safety Awareness sessions at AGL and the feedback was very positive. Her professionalism, realness, sense of humour and ability to capture the audience is second to none. Tanya is an absolute breathe of fresh air. Highly recommend!"
Let's Chat.
Book a free 15 minute call with Tanya