"This will definitely help me encourage inclusivity within my team and workplace."
– Workshop Participant
ADVANCED PSYCHOLOGICAL SAFETY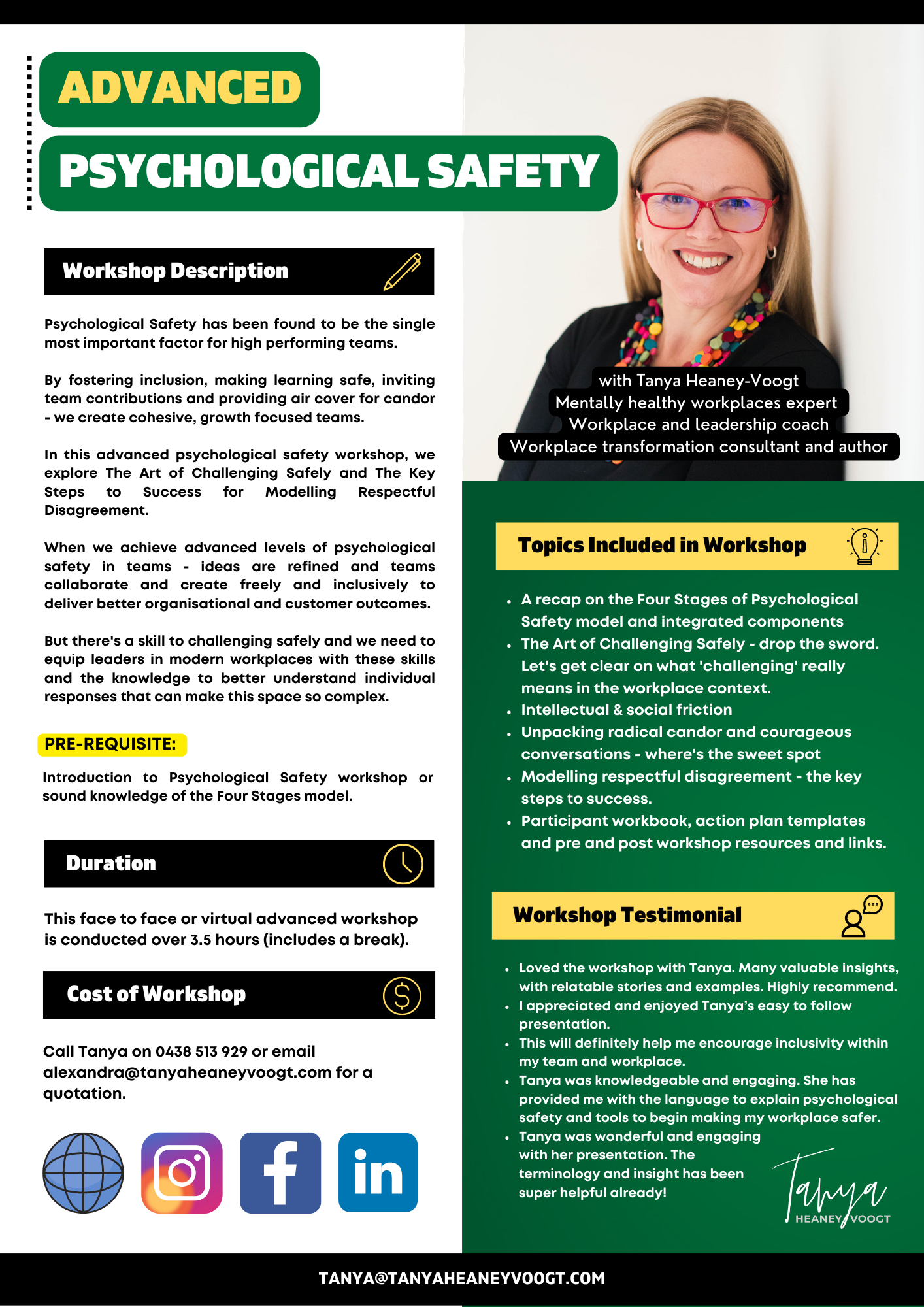 Psychological Safety has been found to be the single most important factor for high performing teams. By fostering inclusion, making learning safe, inviting team contributions and providing air cover for candor – we create cohesive, growth focused teams.
In this advanced psychological safety workshop, we explore The Art of Challenging Safely and The Key Steps to Success for Modelling Respectful Disagreement.
When we achieve advanced levels of psychological safety in teams – ideas are refined and teams collaborate and create freely and inclusively to deliver better organisational and customer outcomes.
But there's a skill to challenging safely and we need to equip leaders in modern workplaces with these skills and the knowledge to better understand individual responses that can make this space so complex.
PRE-REQUISITE: Introduction to Psychological Safety workshop or sound knowledge of the Four Stages model.
A recap on the Four Stages of Psychological Safety model and integrated components

The Art of Challenging Safely – drop the sword. Let's get clear on what 'challenging' really means in the workplace context.

Intellectual & social friction
Unpacking radical candor and courageous conversations – where's the sweet spot

Modelling respectful disagreement – the key steps to success.

Participant workbook, action plan templates and pre and post workshop resources and links.
Duration
This face to face or virtual advanced workshop is conducted over 3.5 hours (includes a break).
Pricing
Call Tanya on 0438 513 929 or email alexandra@tanyaheaneyvoogt.com for a quotation.
"Loved the workshop with Tanya. Many valuable insights, with relatable stories and examples. Highly recommend. I appreciated and enjoyed Tanya's easy to follow presentation."
"Tanya was knowledgeable and engaging. She has provided me with the language to explain psychological safety and tools to begin making my workplace safer."
"This will definitely help me encourage inclusivity within my team and workplace."
"Tanya was wonderful and engaging with her presentation. The terminology and insight has been super helpful already!"
Let's Chat.
Book a free 15 minute call with Tanya