"Great to put time aside and learn and think about my well-being with Tanya's help."
– Workshop Participant
COMMON PSYCHOSOCIAL HAZARDS

IN THE WORKPLACE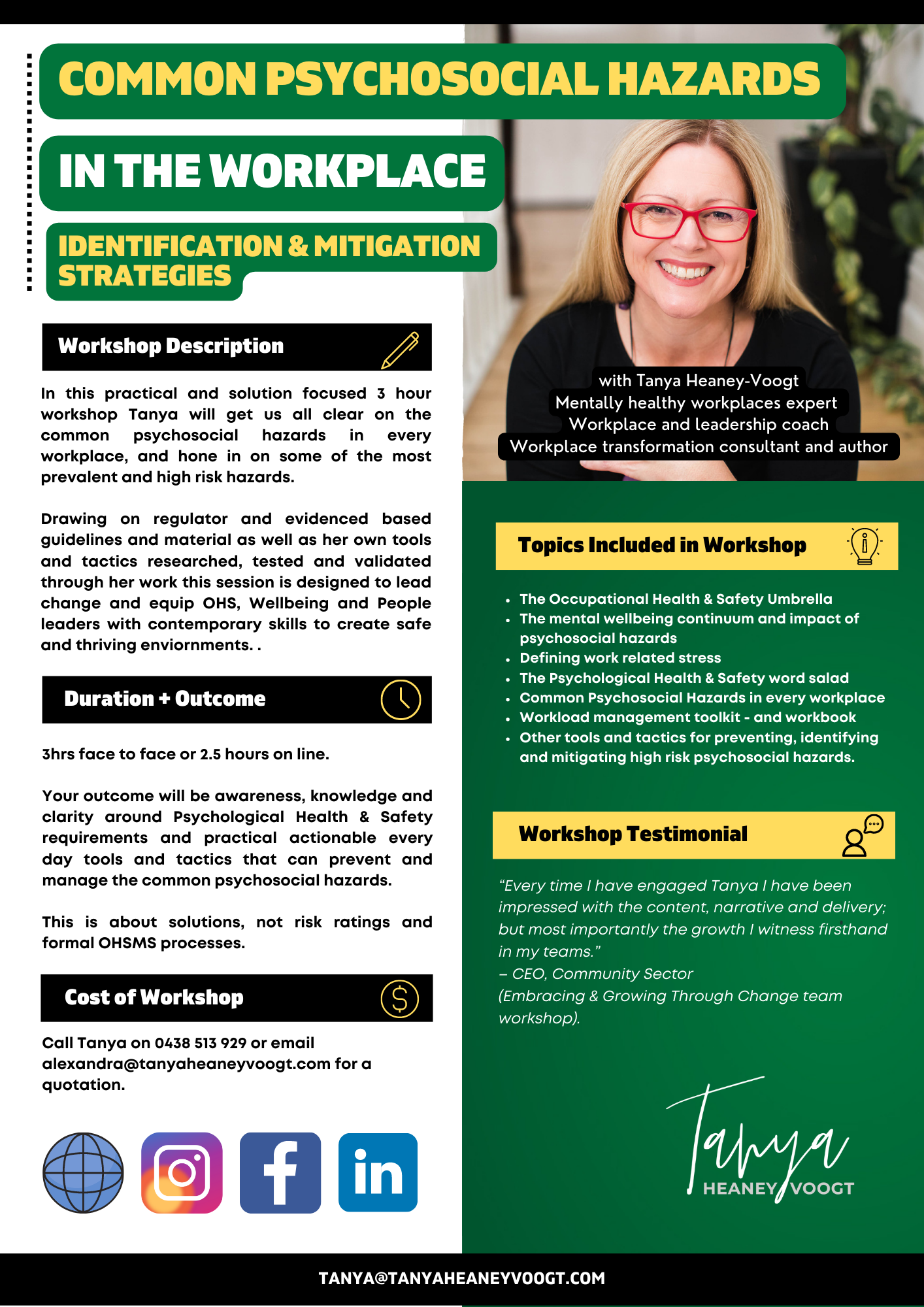 In this practical and solution focused 3 hour workshop Tanya will get us all clear on the common psychosocial hazards in every workplace, and hone in on some of the most prevalent and high risk hazards.
Drawing on regulator and evidenced based guidelines and material as well as her own tools and tactics researched, tested and validated through her work this session is designed to lead change and equip OHS, Wellbeing and People leaders with contemporary skills to create safe and thriving enviornments.
The Occupational Health & Safety Umbrella

The mental wellbeing continuum and impact of psychosocial hazards

Defining work related stress

The Psychological Health & Safety word salad
Common Psychosocial Hazards in every workplace

Workload management toolkit – and workbook

Other tools and tactics for preventing, identifying and mitigating high risk psychosocial hazards.
Duration
3hrs face to face or 2.5 hours on line.
Your outcome will be awareness, knowledge and clarity around Psychological Health & Safety requirements and practical actionable every day tools and tactics that can prevent and manage the common psychosocial hazards.
This is about solutions, not risk ratings and formal OHSMS processes.
Pricing
Call Tanya on 0438 513 929 or email alexandra@tanyaheaneyvoogt.com for a quotation.
"Every time I have engaged Tanya I have been impressed with the content, narrative and delivery; but most importantly the growth I witness firsthand in my teams."
Let's Chat.
Book a free 15 minute call with Tanya