"Every time I have engaged Tanya I have been impressed with the content, narrative and delivery; but most importantly the growth I witness firsthand in my teams."
– CEO, Community Sector
EMBRACING & GROWING THROUGH CHANGE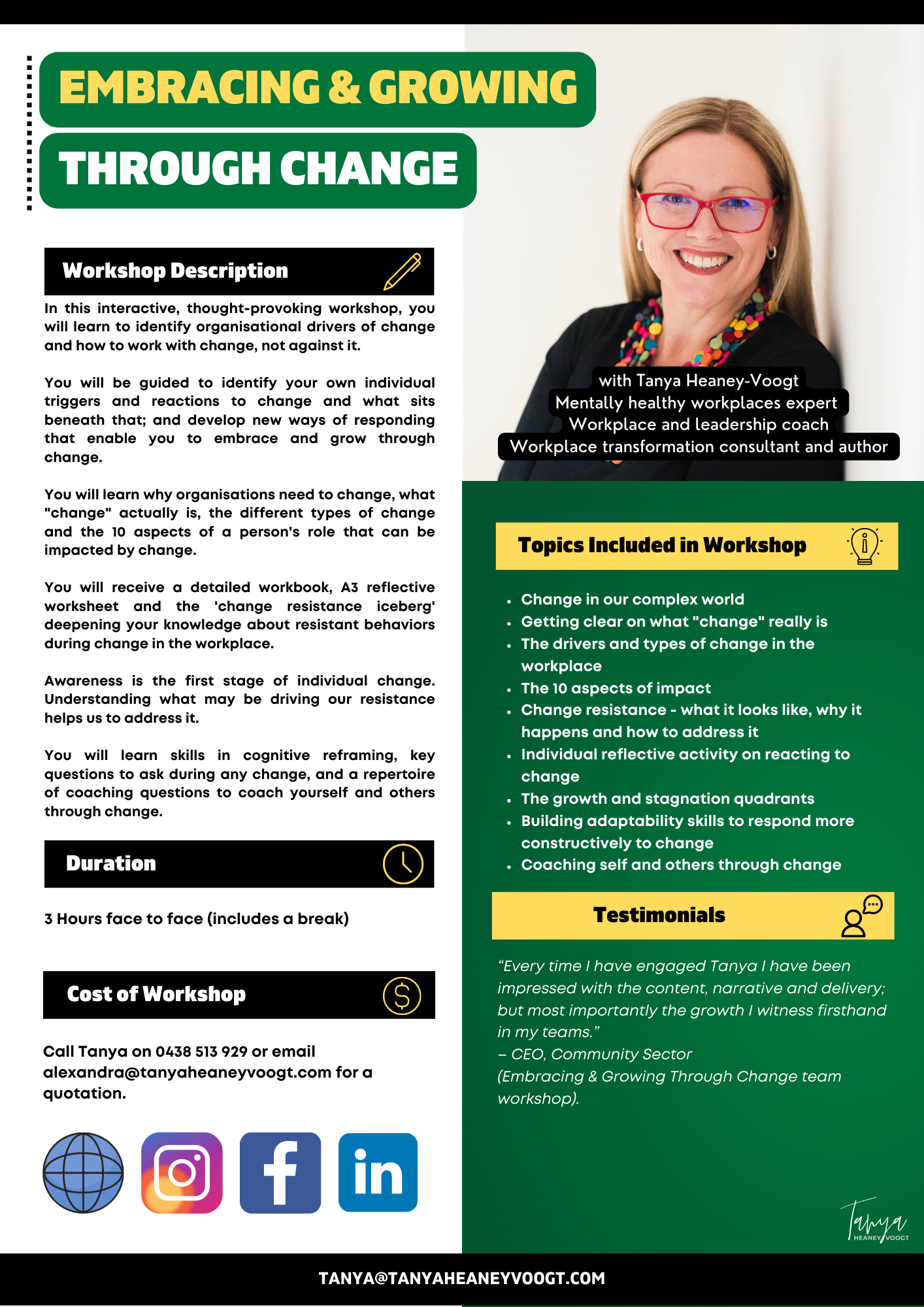 In this interactive, thought-provoking workshop, you will learn to identify organisational drivers of change and how to work with change, not against it.
You will be guided to identify your own individual triggers and reactions to change and what sits beneath that; and develop new ways of responding that enable you to embrace and grow through change.
You will learn why organisations need to change, what "change" actually is, the different types of change and the 10 aspects of a person's role that can be impacted by change.
You will receive a detailed workbook, A3 reflective worksheet and the 'change resistance iceberg' deepening your knowledge about resistant behaviors during change in the workplace.
Awareness is the first stage of individual change. Understanding what may be driving our resistance helps us to address it.
You will learn skills in cognitive reframing, key questions to ask during any change, and a repertoire of coaching questions to coach yourself and others through change.
Change in our complex world

Getting clear on what "change" really is

The drivers and types of change in the workplace

The 10 aspects of impact

Change resistance – what it looks like, why it happens and how to address it
Individual reflective activity on reacting to change

The growth and stagnation quadrants

Building adaptability skills to respond more constructively to change

Coaching self and others through change
"Tanya was fabulous, delivered the exact content we need at the moment and read the room so well. Tan was engaging, informative and made complex concepts understandable. It was great to walk away from the session with something we can use straight away. Tan spoke to all levels of experience in the room and the session will be so helpful to our next steps as a leadership team."
"Tanya's skills and experience in change management and assisting individuals to gain a deep insight into their business, their leadership, and self-awareness has been significant and incredibly valuable."
Let's Chat.
Book a free 15 minute call with Tanya