"I have already used the tools I have learnt so far from Tanya and it has made a difference, even the subtle changes. Tanya completely walks her talk and is a pleasure to work with and learn from."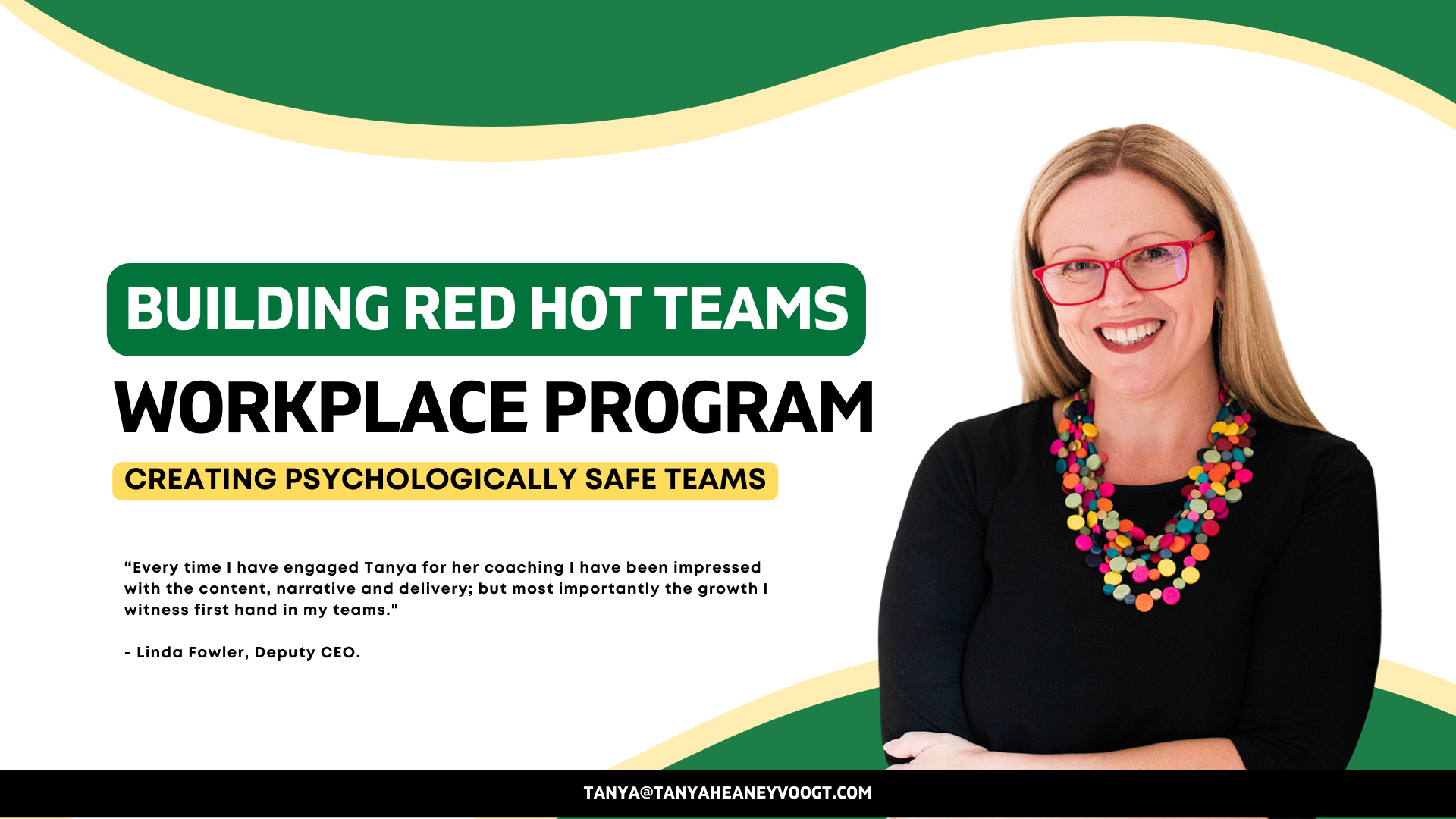 Psychological Safety has been found to be the single most important factor in high performing teams (Project Aristotle).
Psychological Safety can be defined as environments of rewarded vulnerability. By building psychologically safe workplaces we create environments that enable employees to take an interpersonal risk. This enables people to feel safe (physically and psychologically), to learn, grow and innovate.
During the Red Hot Teams program, participants will gain a deep understanding of:
What psychological safety is, and is not
Why psychological safety is essential for workplace safety and effectiveness
The Four Stages of Psychological Safety – inclusion, learner, contributor and challenger safety and actions that build each one
The impact of each of the stages on themselves, their teams and overall workplace culture, productivity and wellbeing
Knowledge of the simple and practical steps to boost psychological safety in their team and broader workplace
Further guidance is provided to organisational lead in regard to implementing a psychologically safe culture across whole of
organisation to ensure reinforcement activities help changes stick.
Delivery of a half day training workshop commencing with the senior leadership team (horizontal layer). Vertical teams are then the focus.

Completion of a team survey for each team to assess the levels of psychological safety and identify key areas of focus. (Validated 16 question survey instrument that produces dashboard results and suggestions for improvement.)
Second workshop to present results of survey and facilitate codesign of Action Plan landing top 3 focus areas (simple, actionable strategies chosen by the team.) – Three hour workshop

Refresher workshop at the five month mark and re take of the team survey to assess progress.

1:1 mentoring support for Team Leads in overseeing the implementation of the actions. Final survey at 12 month mark.
Duration
6 month program.
Pricing
Dependent on organisational size and teams involved. Multiple teams will incur a cost reduction where same day on site facilitation is provided. Please email alexandra@tanyaheaneyvoogt.com for a specific quotation.
"Tanya was able to quickly respond to our needs. She is intuitive and really able to get to the core issues that
needed to be addressed with our team. Her ability to connect across a wide cross section of our workforce was
especially appreciated and we got some great feedback from the team who spoke about her warmth and ability
to connect quickly and that they felt heard, without soliciting this."
Let's Chat.
Book a free 15 minute call with Tanya